A meta-analysis confirms that a feed additive significantly improves piglets growth performance
A meta-analysis based on nine controlled studies confirmed that a feed additive can significantly improve the technical performance of weaned piglets. The results showed increases in body weight and average daily gain, as well as improvements in feed efficiency.
Science-based companies make great efforts in research and development. They invest resources in studies that back-up their promises to the market with actual results. That is probably one of the main differentiators in a landscape full of offers for the animal production industry.
Trouw Nutrition went one step further. Their researchers conducted meta- analysis to validate the results of nine trials performed on weaned piglets. Meta-analyses offer the opportunity to critically evaluate and combine results of comparable studies, increasing the statistical power of the conclusions.
Based on those nine experiments, the researchers worked to determine whether a feed additive could improve the technical performance of weaned piglets. What did the results show? The feed additive Selko Presan-FX significantly improved the body weight, average daily gain and feed conversion of the piglets, compared to the control treatment groups.
All nine studies were performed in controlled Research & Development environments, with weaned piglets. For the feed additive and the control treatment groups, 168 and 131 replicates were included respectively. The control diet was a commercial diet with no antibiotic growth promoters. The overall results confirmed that when incorporating the feed additive to the piglets' diet after weaning, the main growth parameters improve.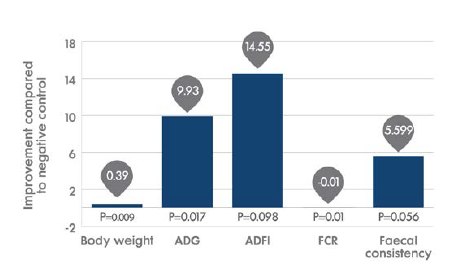 Improvement in technical performance parameters of weaned piglets when Presan-FX is included in the diets (combined results of nine studies)
About Selko
Selko is the feed additives brand of Trouw Nutrition, a Nutreco company. Selko's portfolio consists of natural feed additive solutions that add value to integrators, feed mills and farmers. Focus areas are Salmonella control, feed safety, gut health in antibiotic-free production systems and trace mineral nutrition solutions. Selko solutions are offered as a complete package consisting of products, know-how and services. The Selko brand encompasses blends of organic acids, organic and hydroxy trace minerals, betaine and mycotoxin binders. Trouw Nutrition's global sales organisation commercialises the Selko feed additives brand.
______________________________________________________________________________________
This article was written based on TRS Presan #32
______________________________________________________________________________________