Optimising nutrition, improving profitability
The growing complexity and competitiveness of the animal nutrition industry means that suppliers are faced with increasingly complicated operational challenges.

A key focus area is feed costs, which can account for as much as 70% of the overall production budget. When industry conditions are as changeable and unpredictable as they are today, every feed-related decision you make can have a significant impact on your profit margin. That's why MasterLab, the customer service laboratory of Trouw Nutrition, has developed NutriOpt - a modular precision feeding system that combines real-time NIR measurements with the extended nutrient calculations in our extensive nutritional database.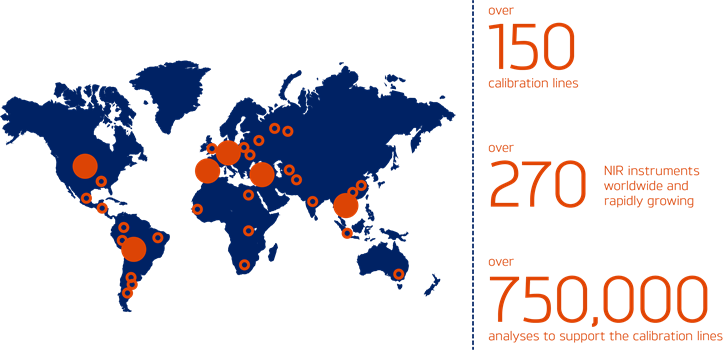 Currently over 200 users in 40 countries in the feed business (feed producers, raw material traders, integrators) are connected to the MasterLab NIR database. Annually the users scan over a million samples and use this data to assure or improve the quality of their products.
Besides offering the accredited calibration, MasterLab also accepts samples from customers in order to assess the sample quality and help in decision making process.
NutriOpt key benefits:

Direct access to Trouw Nutrition expertise and to the largest calibration database
Increased accuracy and predictability
Simplified decision making process
Focus on both technical and business performance
NutriOpt Expertise Available at Hyderabad
With establishment of MasterLab at Hyderabad, Trouw Nutrition India has brought the advanced technology for better nutritional management to India. We are now accepting samples for NIR analysis at a nominal charge.
For more information on NutriOpt, please contact us at customercareindia@trouwnutrition.com.