Trouw Nutrition at Poultry India 2018
Trouw Nutrition, a Nutreco company, will be presenting their latest technologies at Poultry India 2018 to be held at Hitex Exhibition Centre from 28-30 November, 2018. Trouw Nutrition is the global leader in animal nutrition that has been supporting farmers, integrators and the feed industry around the world for over 80 years.
Attendees at Poultry India 2018 can interact with our experts to learn about integrated approach that support nutrition, feed safety and animal performance challenges. Attendees can also analyze feed ingredients in real-time at an on-site testing bar. The Trouw Nutrition stand is in Hall 5, Stand Y13-14 at Poultry India, Hyderabad.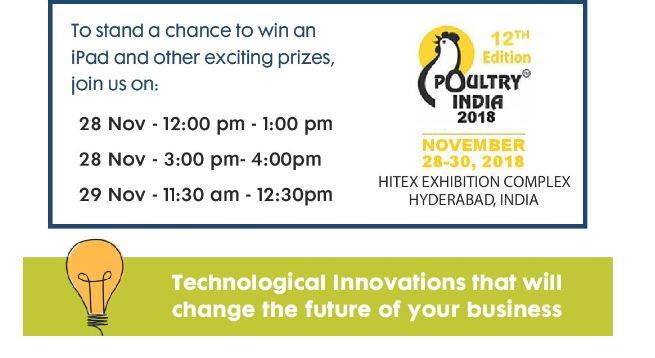 NutriOpt On-Site Adviser testing brings real-time ingredient analysis to the field
Trouw Nutrition brings their latest tehnological innovation, the NutriOpt On-Site Adviser that provides real-time, on-site analysis to assess the nutritional value of animal feed, including raw materials and silage directly from the field. A testing bar in the Trouw Nutrition booth at Poultry India will allow attendees to scan actual feed samples and experience how the mobile technology connects to the NutriOpt database. Users can scan feed samples and receive real-time data to maintain quality control and drive feed decisions.
Transparency is increasingly important to stakeholders across the feed-to-food chain and the NutriOpt On-Site Adviser makes it easy and efficient for farmers and feed mills to assure feed meets optimal quality and nutrition standards. Supporting feed standards, the technology evaluates critical measures of feed quality including crude protein, dry matter, NDF and more. Advanced functionalities allow users to integrate the technology with other decision-making software used in their operations.
Quick and reliable On-site mycotoxin analysis
When it comes to assessing the levels of mycotoxins that may be present in raw materials and final feed, integrators and feed millers are faced with some difficult choices. On one hand, they would like to know exactly which mycotoxins may be involved, as well as the degree of contamination. On the other, however, they need to be able to take effective action within hours, rather than waiting days to receive lab test analyses.
Trouw Nutrition brings Mycomaster - a rapid, cost-effective and easy-to-use system which can be operated outside laboratory for mycotoxin analysis. Besides the NutriOpt On-Sie Adviser, the testing bar will also have Mycomaster for real-time mycotoxin analysis of samples.
Technological innovations that will change the future of your business
As a one stop solution provider, Trouw Nutrition strongly believes in providing products and services that are relevant to the needs of the customers. Applying science-based findings in an integrated approach connecting feed, farm and health management, can help farmers optimise nutrition, protect the welfare of their flocks and herds, and achieve improved performance without sacrificing economics.
A chance to win an iPad
We will also be demonstrating our technologies at Poultry India. Post the demonstration we will have lucky draw announcement, where the participants stand a chance to win an iPad besides other exciting prizes!