Trouw Nutrition offers Feed Safety and Poultry Gut Health Solutions to Breeders
Trouw Nutrition India, a part of Nutreco Company, is the global leader in animal nutrition with "Feeding the Future" as the essence of its mission. Trouw Nutrition successfully conducted a seminar on 9th May, 2018 at Panipat titled "Feed Safety and Poultry Gut Health Solutions for Breeders".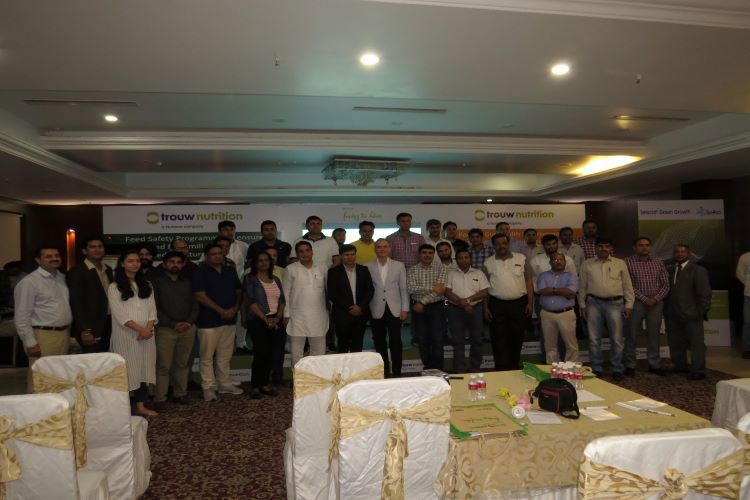 The seminar began with Dr. Suyash Vardhan, Business Head-North, Trouw Nutrition India welcoming the guests and setting the tone for the evening.
Dr. Saurabh Shekhar, Managing Director, Trouw Nutrition India, spoke about the new developments at Trouw Nutrition. He stressed on the fact that in a world with limited natural resources and growing pressure on the feed-to-food value chain, Trouw Nutrition works with customers to increase their productivity and profitability. The main challenges being faced today are doubling food production, halving the pressure on the planet & feeding a 9.8 Billion World Population by 2050. Trouw Nutrition's strong belief and investment in research and innovation is helping it realise the necessary growth for farmers and integrators in the food industry. Dr. Shekhar also gave the audience an overview of the company's global operations and the key focus areas.
The next speaker, Dr. Kai Kühlmann, Global Feed Safety Manager, Trouw Nutrition Global spoke about the importance of feed safety management. Salient features of his presentation are:
Factors like climate change, focus on reduction of waste, legislations and social media transparency have lead to the need for feed safety management.
Tropical countries like India face the challenge of safe storage conditions for feed raw materials. Hot and humid conditions present an intensified mould challenge in raw materials.
Integrated solution of products, services and technical know-how is required at all the levels of value chain in feed production to tackle the problem of feed safety.
Products like Fylax Forte and TOXO help in feed safety management by ensuring that both mould and aflatoxins are controlled.
Services like NutriOpt, Mycomaster and laboratory analysis at MasterLab for quick and reliable analysis of raw materials and feed are essential to monitor mould and aflatoxin levels.
Dr Sabiha Kadari, Technical Support Manager, Trouw Nutrition India talked about the concepts to improve gut health. Key points of her presentation are:
Breeders are highly sensitive birds and currently the major problem being faced are summer stress and gut health related issues.
Good integrity of gut coupled with balanced microflora contributes to optimal gut health.
Efficient gut health promoting concepts includes use of organic acids – small chain fatty acids (SCFA), medium chain fatty acids (MCFA).
Products like Selacid Green which have a synergistic blend of free and buffered SCFA, and MCFA help to reduce stomach pH, maintain stable intestinal microbiota and improve overall gut health.
Water quality should also be looked at to ensure good gut health. Selko pH, which is a synergistic blend of free organic acids, helps to stabilize water pH and improves intestinal health.
Mr. Mahendra Singh Bhandhari, Business Sales Officer-North India, Trouw Nutrition India concluded the seminar by thanking the attendees and requesting the customers for their continued support.