Integrated Mycotoxin Management
Avinash Bhat1, Dr. Swamy Haladi2 & Dr. Sabiha Kadari1
1 - Trouw Nutrition India; 2 – Trouw Nutrition Global
Mycotoxins are diverse biochemical entities produced by mycotoxigenic fungi. The mycotoxin contamination of various agricultural crops and crop products are major concern, since it has significant implications on feed and food safety, food security and international trade. Mycotoxins alone are responsible for 5-10 % losses of total world crop production. Recent mycotoxin surveys pointed out that more than 80 percent of samples tested were positive for at least one mycotoxin and 45% of samples were contaminated with more than one mycotoxin. The production of each type of toxin is influenced by unique climatic, biological and chemical condition of both fungus and plant host or organic substrate on which the fungus is growing.
The concept of mycotoxin management is not new. A serious thinking and work have been going on in this aspect for the last 3 decades. It all started with major six mycotoxins namely aflatoxin, ochratoxin, deoxynivelenol (DON), T2 toxin, zearalenone and fumonisins and the strategies to manage the associated risks. With more and more research on mycotoxins poured in, now more than 600 mycotoxins have been identified. The effect of many of these mycotoxins is yet to be established. The interactive effect of the mycotoxins has further complicated the biological actions on the human and animal health system. So, mycotoxin management requires a holistic multifactor management approach from field to fork.
A modern approach utilizes a centralized digital platform which integrates each and every step of feed and food production, feed and food safety and security including international trade.
Agricultural Farm management
Farm management is the first important step in the mycotoxin management. The mycotoxin contamination usually starts from the field with fungal contamination of the agricultural plants. The mycotoxigenic and pathogenic fungi invade the plants from the soil. A suitable agroclimatic condition will trigger the production of mycotoxins in the plants and subsequent distribution of the mycotoxins in various parts of the plants including the grains. Non-pathogenic fungi will also invade the plants via wounds and damages caused by invading plant pests.
The farm management involves proper soil treatment, crop rotation practices, usage of fungal and pest resistant crop varieties, and usage of proper fungicides and pesticides. The management also includes usage of various modern biological control measures for fungal and pest management. The digital platform of farm management module should be able to guide the farmer in this regard with integrated weather forecasting system with modelling approach to predict mycotoxin contamination in raw material production.
Post-harvest and Storage Management
Direct monitoring of the mycotoxin contamination after harvest, separation of contaminated grain and other products before storage by automatic spectral imaging technology are key critical requirements for post- harvest and storage management. With regards to this, implementation of effective prevention and remedial measures in terms of real time post-harvest management system for storage of raw materials is essential. The storage support system should include preservation with mould control agents either in liquid (preferable) or powder form, before storing and automatic real-time monitoring of temperature, relative humidity and carbon dioxide levels in silos as risk level monitoring markers.
Innovative pre-milling and milling strategies are equally important whilst targeting management of mycotoxins. De-branning and micro-ionization are the two major strategies in minimizing the mycotoxin contamination. Separation of bran and other byproducts effectively minimize the mycotoxin contamination in the milled products for human consumption. The milling byproducts are often used in animal feed creating a greater risk of feed contamination with mycotoxins. A clear mycotoxin monitoring strategy is necessary with stringent quality control measures whenever by-products are intended to be included in feed production.
The decontamination of rejected materials can also be effectively carryout using the rejected materials in microbial fermented assisted biofuel generation.
An integrated Mycotoxin Data management and Forecasting
An effective monitoring system with optimal analysis and management of data is critical to map the mycotoxin levels present in different raw materials and finished products. This needs to be carried out from different geo climatic regions for geotagging the sources of these raw materials and finished products. This robust system will enable to develop strong mycotoxin risk assessment and forecasting models. The database should also include update on emerging new mycotoxins, mycotoxin metabolite and denatured product profiling.
A strategy needs to be evolved for careful and effective inclusion of contaminated raw materials in a limited way such that the usage will not detrimentally affect the laws of the region and health of the livestock.
Trouw Nutrition Solutions
Trouw Nutrition in its endeavor of feeding the future has efficient mycotoxin risk management strategies in place that can be implemented at feed mill/farm level, under technical guidance. Currently the monitoring aspect of mycotoxin management is carried out through collection of mycotoxin prevalence data through the global network of rapid mycotoxin monitoring tool, Mycomaster (Fig. 1).
Fig. 1: Rapid mycotoxin monitoring tool: Mycomaster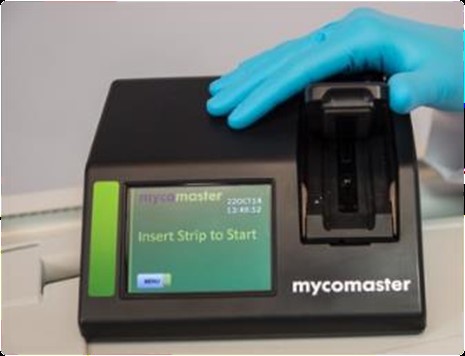 The database is being used as a surveillance tool that gives a real-time information on the current mycotoxin scenario and specie risk assessment through our digital platforms like Mycotoxin Monitor and Mycotoxin Adviser. Mycotoxin Monitor gives an indication of the current mycotoxin situation around the globe with monitoring capability on regional basis Fig. 2.
Fig. 2: Mycotoxin Monitor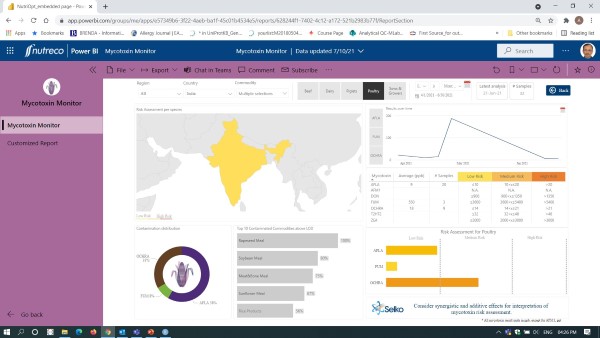 Mycotoxin Adviser, on the other hand, gives customized advice to the livestock producer on the risk status in species level with possible remedial measures in the form of mycotoxin binders with suitable inclusion levels as per the risk, as depicted in Fig. 3.
Fig. 3: Mycotoxin Adviser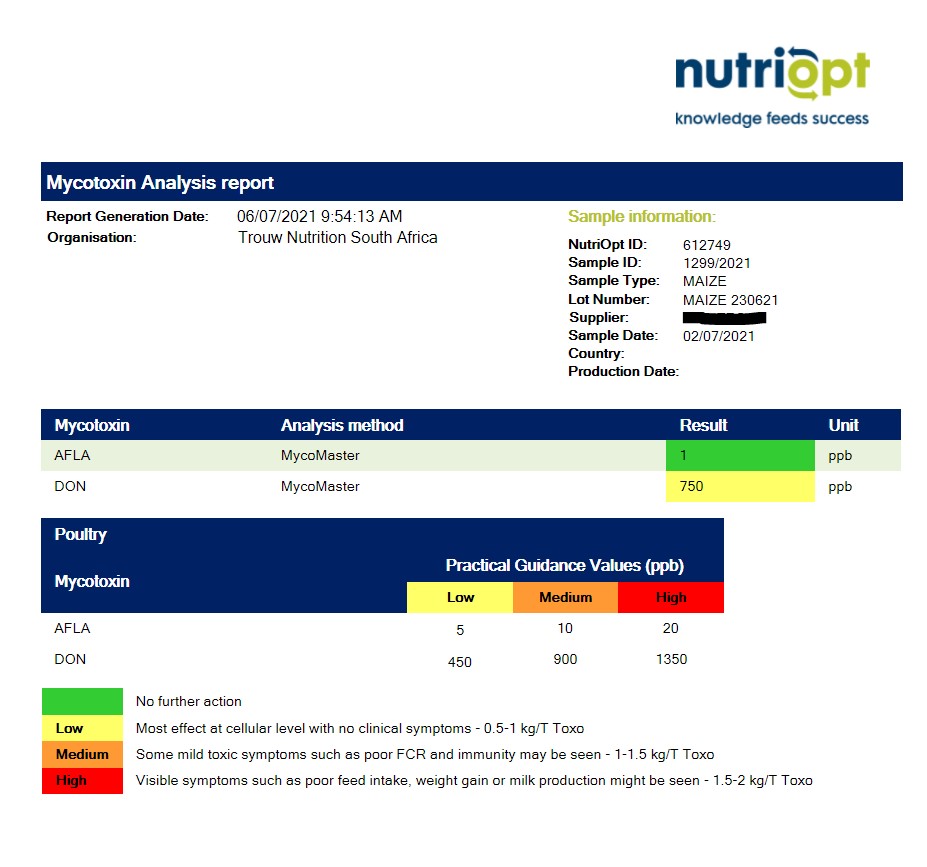 Trouw nutrition boasts of a range of mycotoxin binders – Toxo range, that have been validated and proven to be effective in controlling and mitigating the effect of mycotoxin risks in animals.
For detailed information on the Trouw Nutrition's Mycotoxin Risk Management (MRM), kindly get in touch with your local Trouw Representative or contact us at customercareindia@trouwnutrition.com